Julian Dark Sky Network
Our latest event at William Heise Park was a huge success!

​ This star party was more then meets the eye. It appeared to be a mass of people huddling around each other fiddling with different sized instruments. But I assure you there was much more. It was a bundle of knowledge, curiosity, and the unknown, all laying out the scene at once. City folks and campers flocked to telescopes to see the secrets that remain obscured in mystery. The astronomers took point and shared as much of their vast knowledge as they could. From lore to light pollution, and stars to moons, there was something that everybody could learn from.
First we saw Jupiter and her moons, then like lights slowly being turned on the sky began to light up with more and more. Sirius, Polaris, Betelgeuse, Orion's Belt, Big and Little Dipper, they all slowly but surely appeared like magic. Surprise meteors streaked across the sky as satellites sneaked by. The differently scoped telescopes ranged in size, "zoom", and complexity offering a different taste only to be complemented by the astronomers' knowledge.
Write up by Ryan, Boy Scout Troop #690
---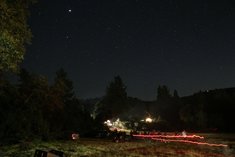 The star party was a completely new thing to me. I've seen the stars but never really payed much attention to it, but seeing it through a telescope and seeing the difference between the city sky and our night sky really surprised me. It makes me see just how lucky I am to live by Julian, which has a dark sky and plenty of stars to see. Seeing Jupiter for the first time with a telescope was awesome! I didn't expect to see the moons orbiting Jupiter and it was fascinating. After that and learning how to orient and direct a telescope myself was cool. It was a neat experience. Although it was a little troubling to hear that many of the participants hadn't seen the Milky Way or many stars was sad. The night sky is such a wonderful sight that many of us take for granted, and we ruin it without knowing it. I'm glad that we also went up to present our little speech, and personally experienced how blinding the lights that aren't shielded or just that just shine everywhere are. The whole party was great overall though, and I would like to fix up our telescope and see the stars once again.
​ Cory, Boy Scout Troop #690
---
How Can You Help?
Click here
to download our brochure and share it with your neighbors
​Julian Dark Sky Network P.O. Box 184, Julian 92036 (619) 354 9258